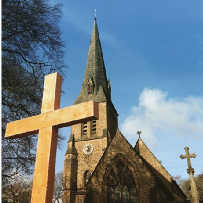 St George's
Sunday 9:30 am Parish Communion
(Morning Prayer monthly on third Sunday)
Sunday 11:00 am Morning Service with Children's Groups
(Holy Communion monthly on third Sunday)
Thursday 10:30 am Mid-week Holy Communion
Third Sunday of the month 6:30 pm
Quiet Services (September to May)
First Sunday of the month 6:30 pm
Prayer First - praying for our world, nation and parish
St Martin's
Sunday 10:00 am
1st and 3rd Sunday of the month: Holy Communion
2nd and 4th Sunday of the month: Morning Prayer

Sunday Evening Worship - 6:30
We have a pattern of Sunday evenings
to which everyone is welcome.
First Sunday of the month is
Prayer First.
Third Sunday is the Quiet Service.

There are more occasional services of
BCP Holy Communion, Agape,
Teaching Xtra, etc.
Just come along.
Civic Service
Next Sunday 23rd July at 10.30am
There is NO 9.30 or 11am service. Instead a joint service at 10.30am welcoming the Mayor and Council,
plus other community leaders and volunteers.
There is a holiday children's activity and crèche. We all start in church together, as usual.